The Wyndham Arms
A frequently awarded Salisbury and South Wiltshire CAMRA pub
Just north of Salisbury city centre, The Wyndham Arms began life in the 1880s as the Wyndham Hotel, and the building remains fundamentally unchanged.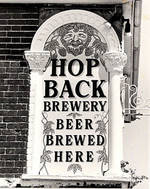 Most importantly for us, The Wyndham is the birthplace of Hop Back brewery. Here in 1987, John Gilbert set up a small microbrewery in the cellar and produced G.F.B. (Gilbert's First Brew). The brewery eventually moved to Downton (a few miles south) in the early nineties, when the success of the beers demanded larger premises.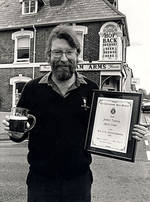 The Wyndham Arms 1The Wyndham is a really intimate pub, divided into a front parlour, main bar area and a snug to one side. It is simply decorated, in the traditional Hop Back style, with historical pictures and local maps mixed in with a selection of the awards the brewery has won over the years. The Bacchanalian figure above the door gives the brewery its logo, the face of Dionysus smiles as you enter, and frowns as you leave.
The Wyndham remains the brewery tap of Hop Back in spirit, and most nights you'll find one of our brewers here, performing last minute quality control. Lisa, the manager, always ensures a welcoming atmosphere, and the regulars are a friendly bunch, so you'll always find good conversation to accompany your pint!
---
Facilities
- Flat Screen TV for Sports Events
---
Testimonials
Yes, The Wyndham might sell arguably the best beer in Britain, but it is the comfy, convivial atmosphere that does it for me. Isn't that what good pubs are all about? - The Telegraph
No visit of ours to Salisbury would be complete without a beer at the Wyndham - Steamer1, Beer in the Evening
Unpretentious pub for beer lovers! - DrumDuke, TripAdvisor
This is the best pub in Christendom, let alone Salisbury - Time Team's, Phil Harding